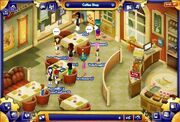 The Coffee Shop is in the Furbulous Fashion District. Players can work or be a customer there and can buy food, eat it, or go to the top secret coffee shop. Players can get there by clicking the cat picture on the wall and they will appear at the top secret Coffee Shop.
Ad blocker interference detected!
Wikia is a free-to-use site that makes money from advertising. We have a modified experience for viewers using ad blockers

Wikia is not accessible if you've made further modifications. Remove the custom ad blocker rule(s) and the page will load as expected.